Clifton's Premier Event Venue
Built in 1912-1913, the Blue Door Sanctuary was originally a Presbyterian Church and later a Masonic lodge.
Owner Kimberly Henderson now makes this space available for weddings, receptions and business meetings — "anything where people might want to gather together and have something nice to eat".
She also has a limited number of rooms available on Air B & B.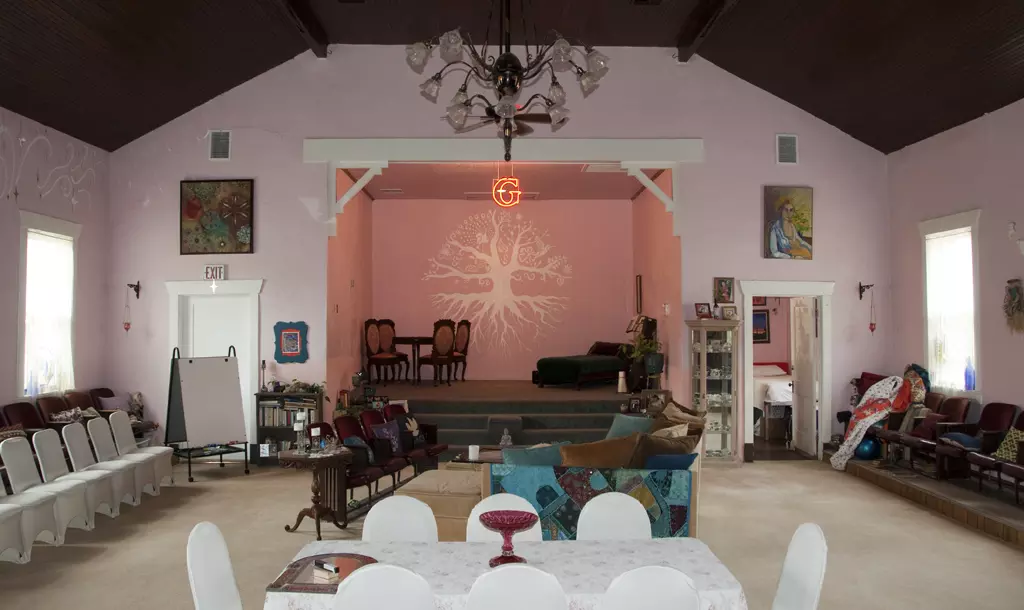 "The Presbyterian Church is a one-story Mission Revival-style structure with many details apparently influenced by the Bungalow style. The plan is roughly rectangular, with an off-center bell tower as the focus. The building is constructed of granite with a stucco finish.

[It] was ... completed 1919 [and] used as the Presbyterian Church in Clifton from that time until 1975, when the interior of the building was modified for its conversion to use as a lodge hall for the Masonic Temple. The Reverend James A. Menaul organized the first Presbyterian congregation in Clifton in 1889. This early group numbered twelve members. Church meetings were held in halls and private homes. By the turn of the century the congregation had grown and Clifton could support a dedicated building for a church. Officials of the Arizona Copper Company, many of whom were Presbyterians, encouraged the strengthening of religion in Clifton by donating $500 and a lot for a building site in 1902. This wood frame church was completed in North Clifton in 1903. The old church in North Clifton served its members well for many years, but by 1917 the Presbyterian congregation began to feel that a new facility was overdue. Clifton had grown and prospered, as had the Presbyterian Church, and the old building was no longer adequate for the size of the congregation. The members also wanted a more central location for their church since the population center of Clifton had shifted toward the south. In March of 1917 the Board of Trustees of the Clifton Presbyterian Church decided to construct a new building. The trustees quickly set about raising funds and soon declared they were only $1,000 short of their goal.

The entrance of the United States into World War I delayed construction of the church because of wartime restrictions on building materials and increased prices.... After the war, the trustees took up fundraising once again [and] and broke ground for the new church in June of 1918.

By January of 1919 Pastor Curry H. Love was making preparations for a housewarming in the new building. Love noted that the centrally located church building would have all the "modern conveniences" such as class rooms and social rooms heated with hot water. The formal dedication of the church took place on Easter Sunday in 1920.

The Presbyterian Church of Clifton persevered through tough times but by 1975 the building no longer served their needs. The Coronado-Corinthian Lodge No. 8, F. & A. M. acquired the building for use as a Masonic Temple."